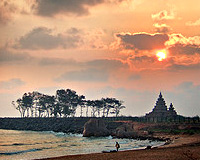 Location:
Tamil Nadu, India
Altitude:
Sea level
Summer Temperature:
38° C (maximum), 21° C (minimum)
Winter Temperature:
30° C (maximum), 19° C (minimum)
Average Rainfall:
800 mm
Best Time to Visit:
December to March
Mahabalipuram, being a coastal area experiences a tropical climate. The weather is usually hot and humid throughout the year. Hence, light weight clothes are suitable most of the time. The summers start in the month of April, followed by the monsoon season in mid June and winters from November.
Summer
The summer season begins in April and ends in mid June. The temperature during this period usually averages around 35-38° C. The nights are relatively cooler due to its proximity to the sea with humidity levels ranging between 55-65%.
Monsoon
Mahabalipuram receives most of its rainfall during the northeast monsoon season, from mid September to mid December. The average annual rainfall is around 800 millimetres. As Mahabalipuram lies on the coast, it rains a lot here with humidity level remaining around 90%.
Winter
The winter season starts in December and ends in February. During this time the days are very pleasant and nights are cool with minimum temperature hovering around 20° C. The best time to visit Mahabalipuram is from December till March when the region is dry and cool.