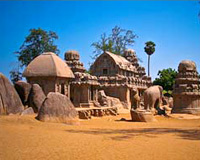 Mahabalipuram or 'The land of Bali' is a town in the Kancheepuram district in the south Indian state of Tamil Nadu. It is located right on the Coromandel Coast next to the Bay of Bengal, about 60 km away from Chennai, the capital city of Tamil Nadu. The fabulous city of Mahabalipuram forms an integral part of the golden triangle of the southern India. It has everything from tradition and history to piety and western annals which make it a perfect centre of tourism.
Mahabalipuram was a 7th century port city and the second capital of the South Indian dynasty of the Pallavas. It was earlier known as Mamallapuram. The city is believed to have been named after either the demon king Mahabali, or the Pallava king Mamalla. Mahabalipuram has various historical monuments built largely between the 7th and the 9th century. The uniqueness of these structures has earned them recognition from UNESCO, which has declared Mahabalipuram a world heritage site.
During the rule of the Pallavas, new styles of art and architecture were pioneered and Mahabalipuram is the place where they tried and exhibited their new artistic and architectural creations. As a result, the area is brimming with rock-cut caves and numerous temples. The Temples of Mahabalipuram can be categorized under four heads - Open-Air Bas Relief, Structured Temples, Man-made Caves and Rathas or Chariot styled from a Monolith Stone. These temples certainly need to be seen to admire the beauty portrayed on the stone.
The major attractions of Mahabalipuram include 14 rock cut cave-temples called mandapas, nine monolithic shrines called rathas, four sculptured relief rock panels and the most famous Shore Temple. The mandapas and rathas are carved out of undressed granite while the Shore Temple is made from dressed stone.
The architecture is not the only draw for the tourists in this city. The area is also nestled in an especially impressive setting with stunning white sandy beaches and plenty of beautiful casuarinas trees. Mahabalipuram is also known for providing a fantastic shopping experience. Exquisite local handicrafts are readily available in the local shops. Any one visiting Mahabalipuram will not be left unmoved by the whole experience that the place provides.